Copyright: Adobe Stock / Nr. 433491773
Madrid could make Spain a major European gas hub if it can overcome infrastructural bottlenecks
The conflict that flared up at the end of February between Russia and Ukraine has been a massive shock to the entire political landscape of the European Union. Its seismic waves are continuing to reverberate in all its economies' markets and industries. Realizing their great dependence on Russian gas, member countries are desperately and consistently seeking ways to increase the security of their gas supplies.
Experts believe that Spain could provide one solution: the country has excellent potential to transform into a major European gas hub and could probably make up for any gas deficit left by Russia.
Spain, which is situated on the Iberian peninsula, is at the crossroads of major LNG transportation routes and is also joined to major gas supplier Algeria by a pipeline.
Spain's six LNG import terminals make up 27% of the entire regasification capacity of the EU and Britain combined.
Moreover, Spain possesses the largest LNG storage facilities in Europe, with a capacity of 3.31 million cubic metres. These make up around 35% of all LNG storage capacities in the EU and the UK, according to data from Gas Infrastructure Europe. In January 2022 Spanish LNG terminals were only 45% full, so the country has sufficient capacity to increase imports if needed.
This significant capacity, which provides for gas supplies to Spain and its subsequent storage, allow the country to remain virtually unconcerned about the security of its supply in the light of the conflict in Ukraine.
Even the price dynamics in the Spanish PVB hub have shown that markets with a low dependence on Russian gas and an abundant LNG regasification capacity are now emerging as discount hubs.
It should be remembered that Spain's potential as a hub can also be linked to the Sines LNG Terminal in Portugal, with its capacity of 5.8 million tonnes per annum. Due to its strategic position on the Atlantic coast, it has long been an object of interest to energy majors, who have wanted to expand the facility. In this way, gas from Portugal could also be transported via Spain to other EU countries.
In its 10-Point Plan to Reduce the European Union's Reliance on Russian Natural Gas, the International Energy Agency (IEA) has pointed out directly that Europe has opportunities to ramp up its LNG imports, given its ample access to spare regasification capacity.
The IEA has strongly advised examining this as one of the main measures for rebuilding the EU's energy supply system.
Interconnector bottlenecks
One may wonder why the EU is still struggling to free itself from Russian gas given such a boon in the form of Spain's vast potential as a hub. However, the entire capacity, which could import twice Spain's own gas requirement if fully used, has almost no connection to the central European gas system: just two interconnectors connect Spain with France via the Pyrenees, via Larrau in Navarra and Irun in Gipuzkoa. Their total capacity is 8 billion cubic metres (bcm) per year.
To increase potential supplies of gas to France and beyond into other European countries, it would be necessary to build one more gas pipeline.
The project for the Midi–Catalonia (Midcat) pipeline, which would increase export to France to 17 bcm per year, could provide just that. Both Spain and France abandoned Midcat several years ago but they have now returned to discussing its possible construction.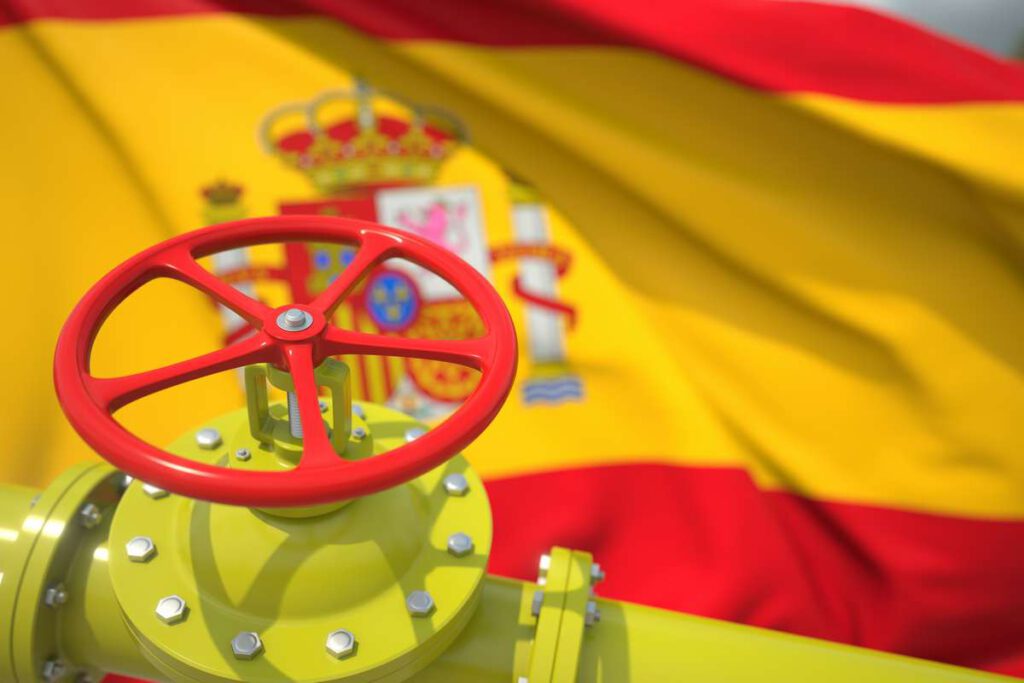 The fall and rise of Midcat
The project to create Midcat was agreed in 2013 by the Spanish, French and Portuguese governments but was halted in 2019 after regulators in Spain and France took the view that it did not meet the needs of the market.
In the wake of Russia's invasion of Ukraine, France has showed willingness to resume talks with Spain about building the gas pipeline to reduce its dependence on Russian gas.
Jean-Michel Casa, French ambassador to Madrid, has said the countries can discuss the project if Madrid officially requests it.
"Now that the underlying situation has changed, is it necessary to talk about Midcat? Let's talk," Casa said in an interview with Spanish newspaper La Vanguardia.
Catalan employers' association Forment del Treball has written to Spanish premier Pedro Sánchez calling on him to urgently resume construction of the pipeline.
The organization's president Josep Sánchez Llibre has stated that the pipeline is a project of strategic and geopolitical interest for the European Union and could guarantee security of supply and facilitate independence from Russia in energy.
In early March, Spain's prime minister Pedro Sánchez made it clear that Spanish taxpayers would not pay for the potential interconnector. "The debate on interconnections is not a problem for Spain, it is a problem for other countries," Sánchez said in an informal conversation with journalists, reports El Diario.
Spanish citizens are "already paying for regasification facilities. The price for the regasification is paid by us, the consumers. If we wish to offer Europe our reserve capacities, which are above 60% while the EU's is at 30%, it is not Spain but Europe that has to fund it," he explained.
At a forum organized by newspaper La Vanguardia and EY, Teresa Ribera, Minister for the Ecological Transition of Spain, echoed the prime minister's statements, asserting that it should not be Spain that speeds up and finances the construction when it is specifically countries to its north that would benefit the most.
"On the other side of the Pyrenees [in France], considerable investments are needed to connect this gas pipeline to the trunk system," she stated. She emphasized that the EU budget should cover the construction of the gas interconnection between the two countries.
Spain also insists that a pipeline should be built with a view to the long term, which would allow other types of fuels, such as hydrogen, to flow in the future.
An energy island for now
So, can Spain and Portugal overcome their status as an energy island and be a source of gas for the EU? Experts have a brief answer for this question: possibly, but not now and not in the short term. For now, even when discussion about building the pipeline is resuming, politicians are already starting to argue about who will be responsible for the costs of building Midcat.
What will happen when it comes to allocating funds? Could the project become held up in the bureaucratic corridors of Brussels?
According to assessments by Forment del Treball, building the infrastructure could take three years and cost €500 million – clearly this is for the Spanish segment only, since the entire original project a few years ago envisaged funding of around €3 billion.
According to the organization's head Sánchez Llibre, this sum of €500 million is on a par with what EU countries pay for gas from Russia in a single day.
Calls from business to expand the infrastructure, which will be a boon for both energy stability and the development of the region, are therefore absolutely understandable and expected. However, the real cost of the gas pipeline could prove to be many times higher, and even if the necessary finance is obtained the new Spanish pipeline could come on stream only at the beginning of 2026 at the earliest.