In September, Polish government spokesman Piotr Muller announced that Poland was prepared to offer Germany a replacement for Nord Stream 2, which is beset with problems. Poland has decided to use the situation to its advantage and to raise the profile of what is considered an alternative to project – the Baltic Pipe gas pipeline. Is this a realistic substitute?
Nord Stream 2's problems have been linked to American sanctions; at the end of August new difficulties were added to these: in the wake of the poisoning of the Russian opposition politician Alexei Navalny there has been talk within the EU and within Germany itself of a need to stop the project to punish Russia for what happened to Navalny. As yet there has been no decision nor is there clarity about the pipeline, although it is almost complete: will there be new American sanctions? Will the Europeans add to these? To date there has been no doubt about the economic expediency of Nord Stream 2 in Germany.
"As an analyst I can say that it would be good if we had [the pipeline], since we can expect the effect of a reduction in prices as a result. And looking at the tense situation in the economy, I think that it makes sense now – for end users too, because we are not only talking about the effects of a price reduction in gas, but in electricity too," believes Kirsten Westphal, an expert at the German Institute for International and Security Affairs (SWP).
However, the Baltic Pipe project is far from being realized; it would be truer to say that right now it is in its early stages. Baltic Pipe connects Norway's gas transport system with Poland through Denmark and is around 900 km in length. The Baltic Pipe consortium includes the Danish energy firm Energinet and the Polish operator Gaz-System S.A. A letter of intent was signed between Poland and Denmark in 2017. The project is actively subsidized by the European Commission.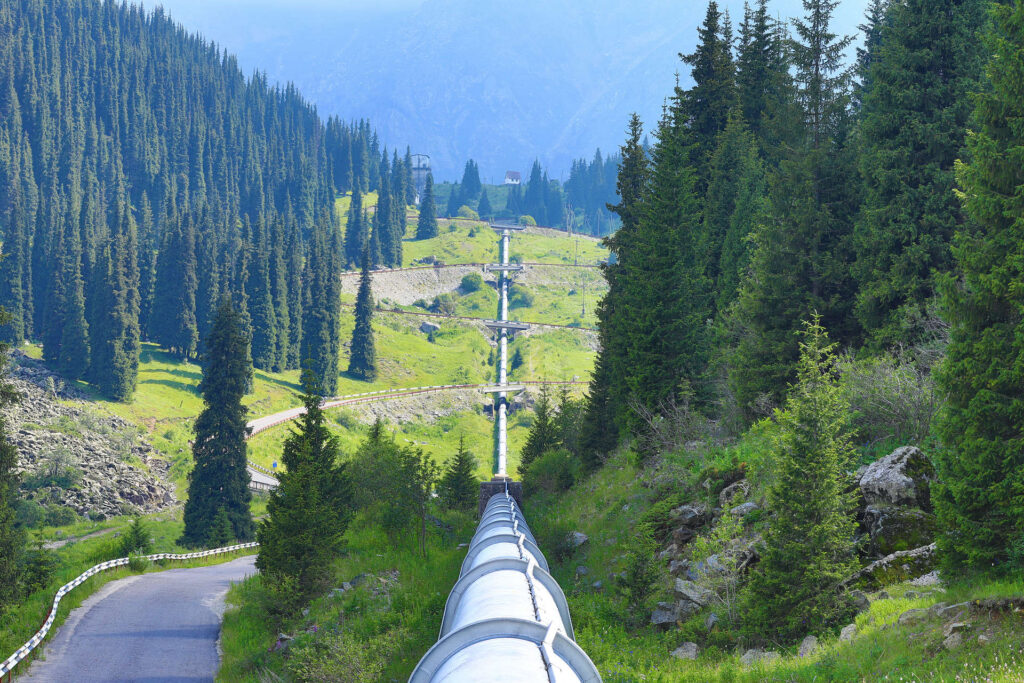 At its start, the pipeline goes through Jutland from the western shore of Denmark. In the Kolding region, part of the pipe will be laid underwater to the island of Funen; from there, the pipeline will go through the island and emerge again into the water in the region of the Nyborg municipality. The pipe will then go through Zealand, Denmark's largest island and re-enter the water. In order for gas to flow freely into Poland, a new compressor station will need to be built in the Everdrup region.
But for gas to begin to be supplied to Poland a great deal more needs to be done. The length of the underwater branch between Denmark and Poland is around 275 kilometres and for the fuel to be successfully transported, Poland will need to substantially expand its own gas transport system and lay around 280 kilometres of new pipes, including for the new gas pipeline.
Completion of construction on Baltic Pipe is scheduled for October 2022, but in Denmark itself things are not so simple: in September, Danish farmers took Energinet to court over their land being taken in return for financial compensation. A group of 40 landowners brought a collective action, as they believe that even if they are financially compensated, taking their land is unlawful. The project affects 13 municipalities in Denmark; the farmers are not happy with the compensation payments envisaged in the developer's budget, of around $20,000 per kilometre of pipe laid.
Apart from this, the onshore part of the new Baltic gas pipeline should go through the island of Funen, where a major solar power station consisting of 1200 rechargeable panels is located. According to an assessment by the Tommerup City District Heating Supply company, the pipeline will ruin investors' plans and will prevent the power station's infrastructure being expanded by a further 600-700 panels. And this is not in line with the Danish authorities' stated priority that the development of renewable energy sources is paramount.
As far as the commercial expediency of Baltic Pipe is concerned, serious doubts are also appearing against the background of a perceptible decline in the European Commission's interest in supporting infrastructural projects. This reduction in interest is linked to fossil fuels. Despite attempts by the Polish leadership to justify laying the pipe with the necessity of reducing coal consumption in Poland, the launch of the project is being dictated exclusively by Warsaw's aspiration to free itself of Russian gas at any cost.
But the main issue is volume. Nord Stream 2 will provide the opportunity to supply Germany with 55-60 bcm of gas per year and to meet more than 60% of its demand for gas. Baltic Pipe by contrast is capable of conveying just 10 bcm of Norwegian gas towards Denmark and Poland. Meanwhile, Warsaw will take a certain volume of gas itself, given that Poland has declined to extend the Yamal contract after 2022, aiming to reduce its dependence on Russian gas and attempting to diversify. Until now, Poland has obtained around 60% of its total gas from Russia. What volume of volatile hydrocarbons will Germany therefore be able to hope for?
Thus experts observe that Baltic Pipe can hardly be viewed as a serious alternative to Nord Stream 2. Warsaw aims to offer Berlin the use of the infrastructure it is creating for transporting gas and to become a European gas hub; the United States supports this aspiration and is planning to supply LNG to the terminal at Świnoujście, which will be expanded. But despite these plans, Baltic Pipe's projected capacity is at least five times smaller than that of Nord Stream 2. At the same time, Germany has a large existing infrastructure, which allows it to receive gas directly via existing gas pipelines straight from the Norwegian shelf. Norway has no plans to increase extraction and in recent years the infrastructure built for gas flow has therefore remained under-utilized. What is more, Baltic Pipe will effectively take its share from these volumes of Norwegian gas, in order to re-route it through the Baltic Sea and Poland back to Germany.
Above all, Germany possesses its own powerful and extensive gas infrastructure which there are in fact plans to expand through Nord Stream 2 and new LNG terminals. Therefore, Poland is very unlikely to be able to realize its plan to transform itself into a major European gas hub by means of Baltic Pipe. And it is even less likely that the Poles will be able to convince their German neighbours of the viability and profitability of such a project.