Copyright: Adobe Stock / Nr. 495877161
Former German Chancellor Angela Merkel has called the Russia–Ukraine war that flared up at the end of February "a profound turning point in the history of Europe." This is largely linked to the fact that the conflict has triggered a swift U-turn in the energy policy of Germany, which had been building close and interdependent relations with Russia in the energy supply field for several decades. 
It appears that Germany is ready to bid goodbye to Russian piped gas and replace it with liquefied gas (LNG) from overseas by building its own LNG infrastructure. 
The Russia factor
Around a quarter of all gas, oil and coal imported into Germany comes from Russia, and companies in the field are closely linked by an intricate network of joint enterprises, subsidiary companies and strategic partnerships. 
Germany is currently the main trading partner of Russian giant Gazprom, providing vast sums of foreign currency and ensuring the Russian national coffers are filled in exchange for its gas, which covers more than a third of the gas consumption of the EU's largest economy.
However, the German government has now probably abandoned the idea of launching the Nord Stream 2 project: despite being filled with technical gas, the pipeline is a dead weight at the bottom of the Baltic Sea. The aspiration is maximum diversification of energy supplies to reduce reliance on supplies from Russia, including a return to plans to build its own LNG terminal. Within a few days of the start of the Russia–Ukraine conflict, the German energy concern RWE, Dutch Gasunie and state-owned German bank KfW signed a memorandum of understanding on the intention to build an LNG terminal in Brunsbüttel in northern Germany, which would allow the country to be supplied directly with liquefied gas from global markets. 
The government intends to finance and receive a 50% share in the plant. 
Gasunie will be the terminal's operator. RWE, the largest electricity producer in Germany, will receive a 10% share in the project.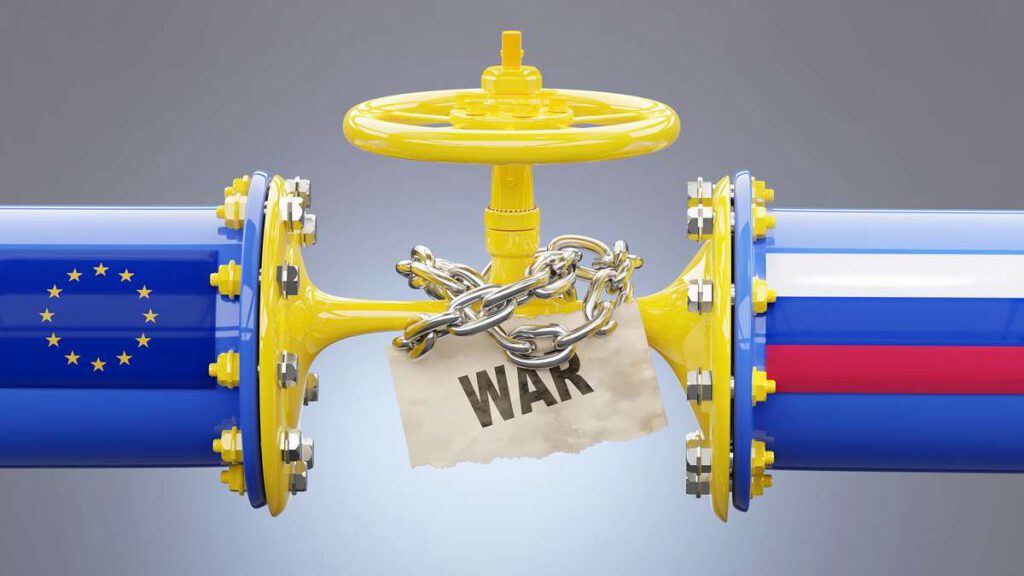 Political support
The project for the country's first LNG terminal seems to be enjoying undivided support from the German authorities. 
"The events of the past few days have shown us that responsible, forward-looking energy policy is decisive not only for our economy and the environment. It is also decisive for our security," Chancellor Olaf Scholz told lawmakers in a special Bundestag session called to address the Ukraine crisis.
Vice Chancellor Robert Habeck has stated that Germany needs gas for its energy transition but that at the same time it is essential to end reliance on Russia as soon as possible. 
He has also promised "no taboos" in exploring ways to end dependence on Russia: "With an LNG terminal in Brunsbüttel, we are expanding the import possibilities. LNG terminals are an additional bypass, so to speak. They help to increase security of supply in Germany and Europe."
Dutch finance minister Sigrid Kaag has also said that with the construction of an LNG terminal in Brunsbüttel, the Dutch state-owned company Gasunie is making an important contribution to the security of gas supply in Europe and a good step towards reducing dependence on gas imports from Russia.
Significantly, this project has a long history and it would be no exaggeration to say that before Russia's invasion of Ukraine local and federal governments had not been overly keen to accelerate its implementation. The effective revival of the project occurred within a few days of the beginning of military action in Ukraine.
Project features
The cost of implementing the terminal project is put at €450 million. 
According to the design, regasification capacity should be 8 billion cubic metres (bcm) per year; this is precisely the amount of gas that will enter the country's gas transport system if the terminal is fully loaded and shipments of liquefied gas are purchased regularly, regardless of the price. 
It is also expected that in the future, the infrastructure could be used to import green hydrogen in the form of ammonia or liquefied hydrogen. 
As Robert Habeck has also said, "At the same time, we are planning the conversion to green hydrogen or hydrogen derivatives from the very beginning. This also applies to the construction of the hydrogen infrastructure. In this way, we are setting the course for climate neutrality and shaping the transition."
For comparison and to give an idea of scale, gas consumption in Germany is around 142 bcm per year, approximately a third of which comes from imports from Russia. 
Just one gas pipeline – Nord Stream, which supplies gas to Germany and via transit to other European countries through the bed of the Baltic Sea – is designed to transport 55 bcm of gas per year, but it is consistently loaded over its total capacity.
Thus, one terminal alone would clearly be insufficient to replace even one of the supply routes for Russian gas into Germany: several plants working at full capacity would be needed at the very least.
You are not alone
There are in fact three other projects for the first German terminal – in Brunsbüttel, Stade and Wilhelmshafen.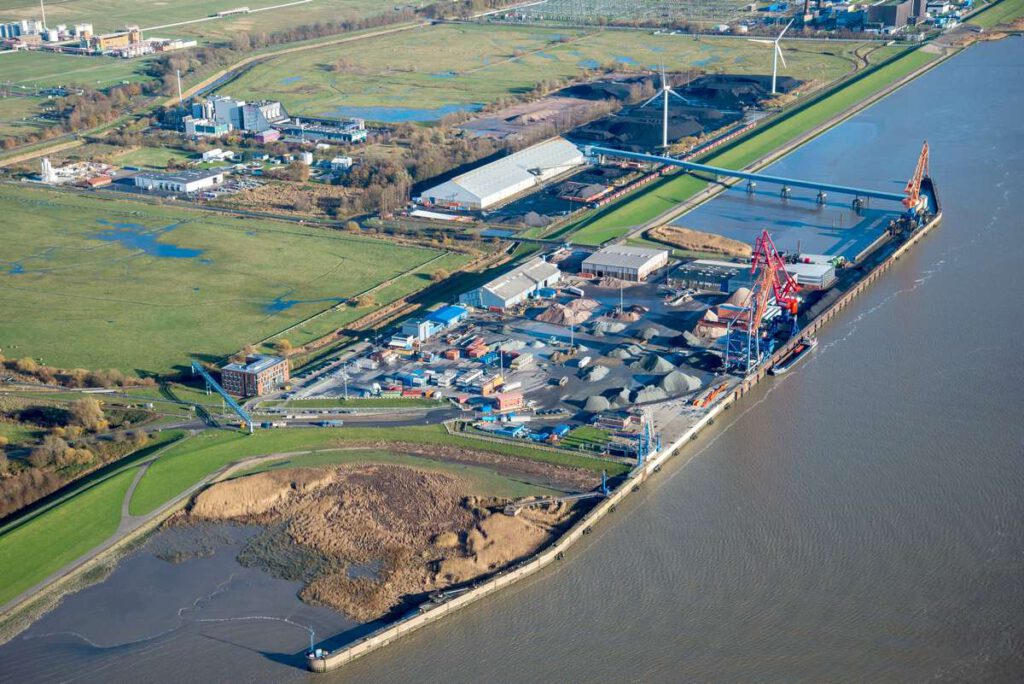 The Brunsbüttel project developed slowly but has been the most successful. The idea for this project has been around for a long time but the project company German LNG Terminal GmbH was created only in 2018, by Dutch Gasunie and Vopak and Germany's Oiltanking. 
Time has passed and all the relevant documents have been submitted, but the project has yet to obtain a permit and the approval process has become protracted. The project was of little interest to the authorities, who were probably more focused on the future Nord Stream 2. 
In February 2022 German LNG Terminal was reporting that it had not yet received a permit from the government, for which it had submitted an application in June 2021. 
Bernd Buchholz, Minister of Economic Affairs for the state of Schleswig-Holstein grudgingly responded that "not all the documents have been properly submitted yet." He added that a permit would not be granted until autumn 2023 at the earliest. 
Given construction time, the terminal could only open in 2026.  It is now clear that the project has no shortage of political support but its completion date remains uncertain.
Plans to build a terminal in Stade were on a larger scale still and entailed constructing a facility with a capacity of 12 bcm per year at a cost of €1 billion.  
Extreme market volatility in late 2021 and later urged Hanseatic Energy Hub (HEH) – developer of the Stade facility – to push back the binding capacity process for the site until later in 2022. 
At the beginning of March, HEH said, it would submit approval documents by Easter and was also aiming for completion of the terminal in 2026. 
Uniper's comeback
The LNG terminal in Wilhelmshaven was one of the flagship projects of the Uniper energy concern. In October 2020 a market test to show binding interest proved that there was insufficient interest at that point in the LNG sector in terms of booking large, long-term capacities for LNG regasification in Germany.  Uniper itself characterized the market's reaction to the project as "lukewarm.". 
In April 2021 the project was cancelled and the company decided to create a hydrogen hub in its place. 
NGO Environmental Action Germany (DUH) welcomed the end of Uniper's plans because its "operation would have involved the import of fracking gas, which is particularly damaging to the climate and the environment." 
It said the other LNG terminals planned in the towns of Brunsbüttel and Stade must follow the suit.  "The operators in Brunsbüttel and Stade must now ask themselves how they can still continue their planning in the face of this wake-up call," said DUH head Sascha Müller-Kraenner in 2021.  
Nevertheless, the Handelsblatt newspaper reported in February that as well as supporting the Brunsbüttel project, the German government had asked Uniper to revive its plans to build an LNG terminal in Wilhelmshaven.
"Uniper is currently examining the possibility of resuming planning for an LNG terminal in Wilhelmshaven," a company spokesperson told S&P Global Platts. Announcing the revival of the LNG project, the company said these activities would be closely linked to its plans to make Wilhelmshaven a green energy hub, with green ammonia imports and hydrogen production to account for more than 10% of Germany's hydrogen demand in 2030. 
However, Uniper highlighted that its discussions with the Russian company Novatek on the import of ammonia had been put on hold.          
According to several sources, the Wilhelmshaven terminal could achieve a capacity of 10 bcm per year, at a cost of €725 million to investors. 
Moreover, it could be launched even earlier than the competing projects – as early as 2023-2024.

Thus at present Germany has three projects in hand for an LNG terminal of its own, which are at various stages of project application readiness.
In a perfect scenario in which these all enjoyed complete political support, Germany could achieve capacities that would provide 30 bcm of regasified LNG annually in the period from 2023-2026. The cost to investors – government and companies – could be around € 2,175 billion.
There is also a separate and potentially acute question regarding LNG supply in global markets, which economists will have to respond to in the near future: where will it be possible to obtain LNG if American, Qatari and Australian LNG plants are already operating at full capacity? 
Clearly, this question will be answered as LNG terminals are brought on stream.
In conclusion
In 2019, economy minister Peter Altmaier insisted that gas was exciting. Now, it is LNG that seems to be more attractive to the federal government.
The energy sector may well therefore hope for widespread support of LNG aspirations.
However, we should not forget that Germany has long dreamed of going greener and a hydrogen economy, so new projects may need to be able to adapt to a swiftly changing environment.
Claudia Kemfert from the German Institute for Economic Research (DIW) told public broadcaster NDR, "we'd need hydrogen terminals right from the start to implement the country's energy transition.".
LNG terminals would not make any sense, as they would mean an investment in old technologies, she insists. Terminal planners are aware of general criticism of fossil fuels. But are they ready to make their projects environmentally future-proof?
And how much would that increase their costs?
These questions are keeping the whole topic quite intriguing.